Michael Maurice's
successful repairs
and restorations
On this page, you'll find details of my recent repairs and restorations.
Now that the Government has relaxed the lockdown rules, I'm going out to customers to service their vintage equipment.
Lockdown, didn't mean that I was sitting at home watching the TV! I am working, taking in peoples hi fi and audio equipment whilst practising social distancing rules. Apart from a couple of days the weather has been very good to us, so I can take advantage of turning our garden table into a makeshift workbench.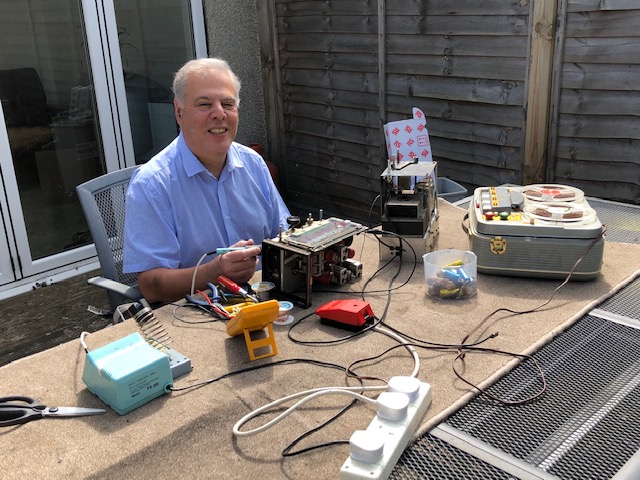 Michael Maurice working on his makeshift garden bench whilst listening
to music on his fathers old tape recorder
People get their record players, radios, radiograms etc restored for a variety of reasons. It could be that they are trying to recapture that sound from the 1950's and 1960's, it may be that it belonged to an elderly relative and they now want something to remember them by.
One lady had her aunts radiogram restored then used it to play music at her wedding reception.
Whatever the reason you can be assured that I will repair your equipment to a high and safe standard whilst retaining all its original features. I also guarantee all these repairs for 1 year.
I've been repairing and restoring record players, radios, radiograms and tape recorders. I also repair some of the more modern equipment such as LCD and Plasma TVs and some DVD recorders.
Recently, I have the pleasure of restoring several original radiograms, One being the Beau Decca, another a Dynatron Princess Ether. the Decca was a 1948 model, the Dynatron dates from 1953. I've also restored to working order a 1934 HMV automatic record changer, believed to be one of the first changer in the world and a 1936 RGD radiogram
Bang & Olufsen Beocentre 2002
What do you do when a customer gives you a music centre to repair and the parts are not available? This was the situation I found myself in when the output IC's went faulty and were obsolete.
The answer, redesign the unit with modern components and a new circuit board.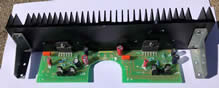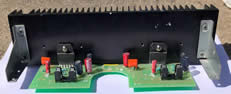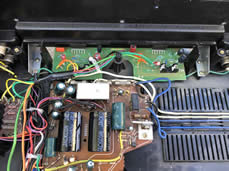 I designed a completely new board using a CAD program around modern available parts to fit exactly where the original board went.
Hopefully the music centre will carry on working for many years.
HMV Model 120 Automatic record player.
I was recently asked to restore this record player. Dating from around 1934, it is believed to be one of the earliest automatic record players in the world. it required a total stip down, clean and re-assembly with fresh lubricant. At the same time I also restored this radio which was from 1950.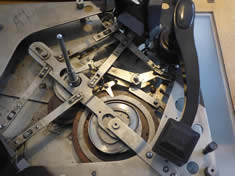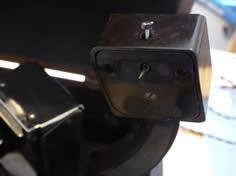 You can see them being used together in this youtube clip.
https://www.youtube.com/watch?v=bnTSaYjSJg8
HMV 2001 record player
I was asked to repair this for a customer in Derbyshire and what a challenge it was.
The cabinet was sound, but the electronics were a different story. The mains transformer was burnt almost to a cinder, the output transformer had failed, and every other component needed replacing except for the valves.
The deck also needed quite a bit of work including the 3 'turret' pulleys and the main jockey wheel. The motor was seized and needed relubricating. The result was a lovely sounding quite novel record player
Sony Video Tape Recorder
Before we had VCR's video cassette recorders, we had video tape recorders in reel to reel format.
I got a call from an editor asking if I could repair one of these dating from 1968, now I'd never seen one of these let alone repair one, but I applied the principle that these were similar to audio reel to reel recorders but adaped for video. The symptoms were that after a few minutes, the machine would slow down and stop altogether. Now I've had this with audio recorders and took a guess what the problem was before the customer had brought it in. Sure enough my guess was correct, the parts were obtained and fitted the next day and I was able to give the customer a fully working machine.
A few weeks later he sent me this email:
Dear Michael
Sorry for the later-than-promised message, but I thought I'd let you know that the assignment that required a fully functioning Sony CV-2100ACE videotape recorder in the digital transfer of 1970 recordings of the late Les Dawson at Yorkshire TV has now been completed and delivered to ITV Studios, Manchester. I have nothing but praise for the quality and speed of your recent repair job; as you know I was in a desperate position to get the 1968 VTR back to running order because without it I simply couldn't complete the assignment.  I've also managed to undertake another couple of similar jobs with the machine and (touch wood) the results have been good. The stability of the playback is now much better than it ever has been since acquiring the machine a few years ago. You've done a good job.
I will have absolutely no hesitation in making the journey down to you from Milton Keynes in future and I recommend others to do so, too.
Feel free to post the above on your website and, again, very many thanks.
Best wishes
Colin
Here's a picture of said tape recorder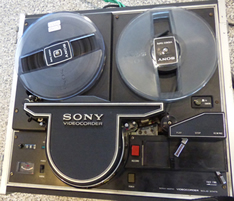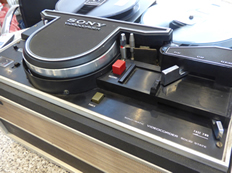 Beau Decca,
This lovely radiogram was in its original state except for the record player section. The original turntable would have been a Garrard RC70, but these only played 78's so t some time in the early to mid 1950's it had been changed to a Garrard RC88/4 to play the 'new' long playing records and 45 singles.
The restoration was quite a challenge, not least because the valves in the main amplifier were original, very rare nowadays and worth a lot of money.
Here are some pictures of the radiogram and its workings both before and after restoration.
The first challenge was that several paper/wax capacitors in the radio section were stud mounted rather than the usual axial types. No capacitor like this is made today so I had to "restuff" the originals.



The original capacitor was cut open ith a pipe cutter and its innards removed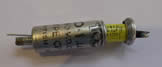 The base of the empty can had a fine hole drilled, a new modern capacitor was fitted to the cap, the other end going through the hole in the base. The capacitor was then fitted back together and secured with epoxy glue.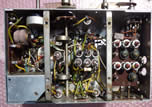 The completed capacitors Refitted to the chassis The completed chassis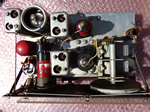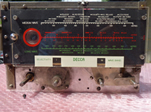 The top of the radio chassis and of course the front. All the valves are original
Having completed restoring the radio section, it was now time to repair the main amplifier. The valves were carefully removed and stored away safely. Fortunately there were no capacitors that needed restuffing, it was a question of replacing all the resistors and capacitors with modern equivalents.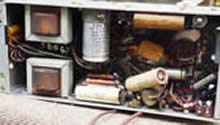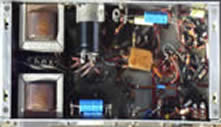 The amplifier in its original state. Refurbished with new components.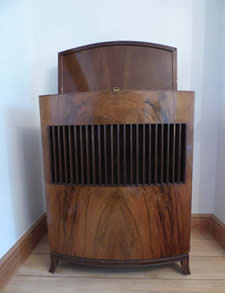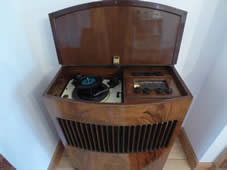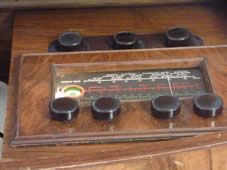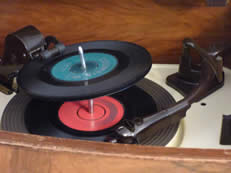 Four views of the completed Beau Decca radiogram
Before the back cover was replaced, I had to make an aerial. Radio sets in those days did not hgave an internal aerial, you would connect it to a very long wire.
That really wouldn't have worked in a modern home for practical reasons, so I made up a frame aerial on theinside of the back cover.
It cant be seen from the outside, but is very effective.
It is very similar to the one constructed for the Dynatron (see below).
Dynatron Princess Ether
This Dynatron radiogram dated from 1953. Again like all radio's and record players etc, it needed most if not all the capacitors replaced. The resistors were also checked for tolerance and those found to be out were replaced.
The recod deck was a Garrard RC75, it needded new belts a pulley and as cartridge. The off/on/reject knob was missing, as I couldn't go out and buy one, I made one from a metal post, some car body filler which was then turned to make it round and painted. It looked just like the original.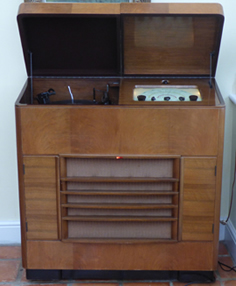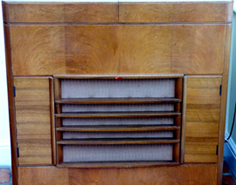 Two views of the Dynatron Ether Princess Radiogram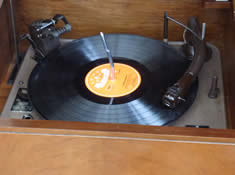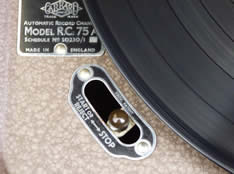 The record player section A close up of the knob that needed to be made.
The original wiring loom between the main amplifier and the tuner was made of rubber and was starting to perish. With an HT Of approx 400V, it needed replacing but using materials that wouldn't look out of keeping.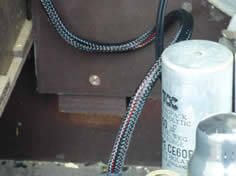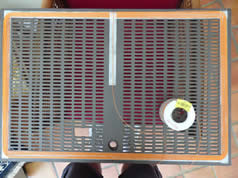 The new wiring loom Newly constructed frame aerial
Pye 1203 Radiogram
I had two Pye 1203 radiograms, each with various problems. They were both restored to full working order. One had a stained speaker grill, so using a similar cloth to the home made radiogram (see below) a new cloth was fitted. The results were as expected outstanding.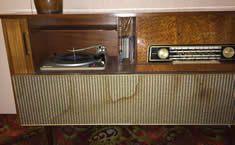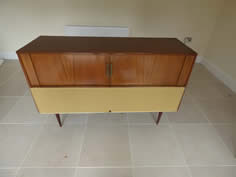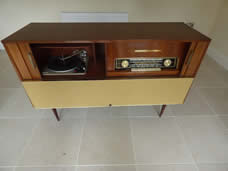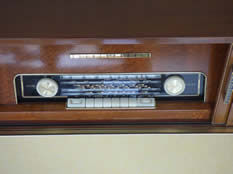 ------------------------------------------------------------------------------------------------
The home made radiogram
I got a phone call asking me to restore a home made radiogram. It had been lovingly build by the now owners father in the late 1950's early 1960's and now some 50 years later needed some love and attention.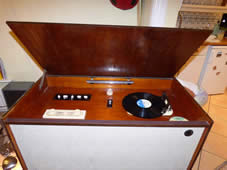 The radiogram consisted of a home made power amplifier, a Tannoy preamplifier, a Ferguson FM Tuner and a Garrard single play turntable. This was fitted with an originalTannoy magnetic pick up.
There was no speaker inside it, an external speaker was provided.
There were other unique touches: a magic eye indicated the output power level and perhaps best of all, the on/off switch was signed by the radiograms designer and builder.
First thing, was to remove the power amplifier and replace all out oif spec resistors and capacitors, especially the ones coupling the grids of the output valves.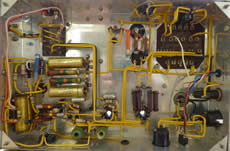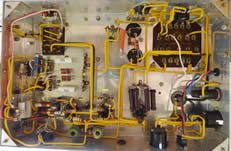 In its original state with new resistors and capacitors
The Preamplifier was given the same treatment, the Ferguson FM tuner was checked over.
The gram unit was stripped, cleaned and relubricated.
That was the easy bit!
Because the original radiogram didn't have an internal speaker, the customer asked me to try and fit a speaker inside the unit. The front cloth wasn't in the best condition so this was stripped out as was the whole front. I managed to find a good vintage 12" speaker and tweeter, mounted it on some plywood for strength, and cut the front panel to suit. Some vintage speaker cloth was bought and this was fitted to the front and the whole thing re-assembled.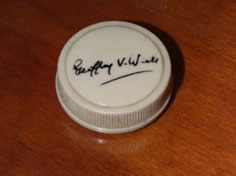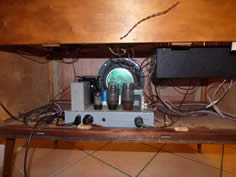 The signed on/off control Inside the radiogram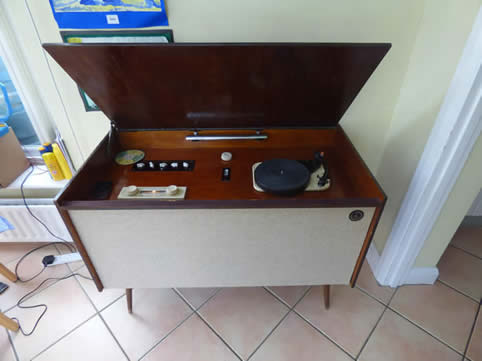 The finished radiogram. It took around 3 days to complete the work
------------------------------------------------------------------------------------------------
The Pye Black Box
This is the Pye Black Box, circa 1954, it came in in quite a shocking state and needed a full refurb.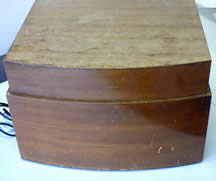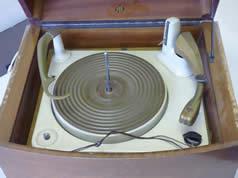 The cabinet was stripped, sanded and then had several coats of Danish Oil applied. A new 'Hi Fi' badge was obtained and fitted.
The record deck was seized, the speed control knob was missing, the stop / start / reject knob was the wrong type.
The deck was fully stripped, cleaned lubricated and re-assembled. The tone and balancing arm were originally discoloured so these were resprayed. Two new knobs were fitted.
The amplifier was serviced with new resistors and capacitors, a new valve was also fitted.
And here it is, fully refurbished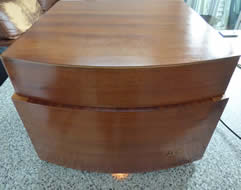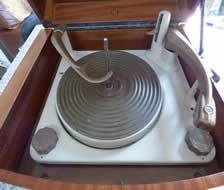 ------------------------------------------------------------------------------------------------
The HMV Radiogram
This HMV need a full restoration, the radio/amplifier section had received attention in the past, but really required a full overhaul.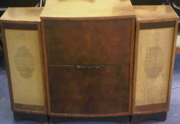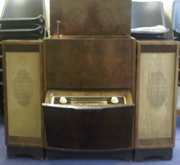 Old capacitors that had long seen better days were replaced along with a few resistors. A couple of valves were also changed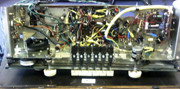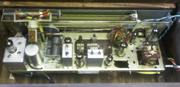 The record deck was seized and also needed stripping and relubricationg. Once all this work was done, it played beautifully and was returned to its delighted owner.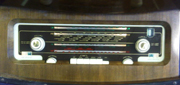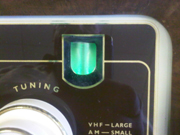 The front panel pulls out to reveal On these sets correct tuning was
all the controls indicated by a 'magic eye'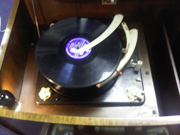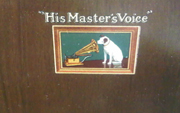 Playing a stack of 78 records The beautiful HMV logo
------------------------------------------------------------------------------------------------
Did you know?
At one time, you had to pay a copyright levy in the form of a stamp? This picture of a 1926 recording of The Laughing Policeman clearly shows the stamp of 1⅛d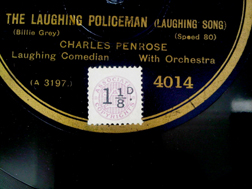 There is a stamp on each side indicating that 2¼d, tuppence farthing.
------------------------------------------------------------------------------------------------
The Philco Record Player
I was asked to restore this beautiful Philico record player
It took several hours to strip the record deck down, clean and lubricate all the various parts and then re-assemble it. There were several parts in the amplifier that I always replace on sight.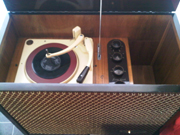 This picture doesn't do the cabinet justice The Collaro RC456 record deck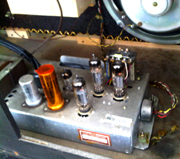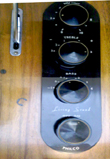 Amplifier on, valves all lit up Control Panel
This record player dates from 1956 and was very advanced for its day. The amplifier is a Bi-Amp, that is, it has two amplifiers on one chassis, one for the Bass (low frequencies) and one for the treble (High Frequencies) The sound from it is fantasic, warm and mellow.
------------------------------------------------------------------------------------------------
Its a small world
My work means that I meet a lot of people, either in their homes or even out and about and sometimes we recognise each other from some time ago.
Here are a couple that come to mind:
About 10 years ago, I went to a gentleman to repair his television, we looked at each other and knew we had seen each other before, I chatted with him for a while and he told me he owned a barber shop in Kensington. The penny dropped, his shop was across the road from my Grandparent's flat and he used to cut my grandfathers and my hair. That would have been some 35 years before.
Some time ago I needed a stand for a plasma TV. Not wanting to pay full price (They were expensive a few years ago) I saw what i wanted on Ebay. It was located in Kent which would have been a round trip of around 150 miles. I bid and won the stand. A couple of hours later, I received a phone call from the seller, he said
"You're Michael Maurice the TV engineer living in Wembley!"
"Yes" I replied.
"My parents in law lived in your street, you serviced their TV many years ago, do you remember them?"
"I do remember them"
"they've since moved to Kent, but coming up to Northwick Park next week, would you like them to deliver it for you?"
Now what are the chances of that? They did deliver it, we all had a cup of tea and chat about old times.
A happy customer
I received this email from a customer a few days before Christmas
Hi Michael,
Just wanted to drop you a quick note to say super thanks for reconning my dansette, she sounds amazing and plays everything. Sooooo happy :)
Cheers again,
Mat
I'd serviced his Dansette Hi Fi record player (pictured top right of this page) and added a facility for him to connect his Ipod.
If you would like to know more about the services that I provide, please email me at m.maurice@btinternet.com Please include your phone or mobile phone number.
Click here to contact us about vintage and other electronic repairs.