Save Money on Utilities
Gas, Electicity, Phone, Broadband, Mobile Phone
In May 2013 I received this bill from Southern Electric telling me We owe you £1651.27 Thats right, Southern Electric had taken monies out of my bank account to pay for power that I had not used. When I asked for it back, they said we'll reduce your monthly bills. So I left them and joined The Utility Warehouse.
I have saved a lot of money, and I can help you save money too. Interested?
Please read on and then contact me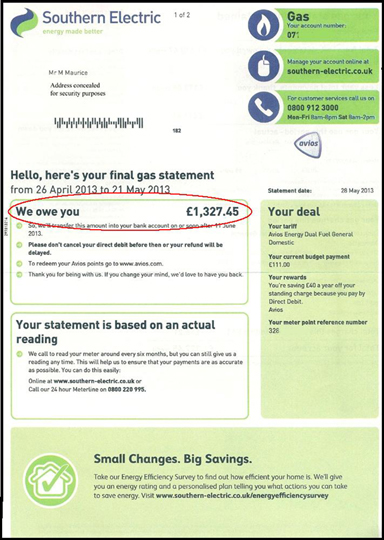 Around the same time I was introduced to The Utility Warehouse, I signed up and became a distributor.
I've got all my money back from Southern Electric and I've made huge savings on my landline, broadband and mobile phone bills.
Please take a look at my my hosted website
Are you still in a contract with your existing supplier? No problem. The Utility Warehouse will in most cases, give you an allowance of up to £200 to help you switch.
Landline Phone, Broadband and Mobile phones
For many years, I have diverted my landline to my mobile and up till May 2013, I was paying approx £400 per quarter for the privilege but because calls from Utility Warehouse landlines to Utility Warehouse mobiles are free, I've cut that bill to zero. I'm saving between £1500 to £2000 per year.
If you divert your landline to your mobile speak to me, I can save you money.
The Utility Warehouse saves you money and lets you make money
Single Bill for all your utilities
Award winning customer service
Value thats unbeatable
Easy to switch
UK call centre in NW London
Consistantly gets top ranking in Which surveys
There are many other benefits to joining The Utility Warehouse
You can get up to £200 Allowance to help you switch
Call Michael on 020 8908 1518 or mobile 07973 530130
Take a look at my hosted website
Clich here to email for further details.
Click here to contact us to save cash on your utilities.