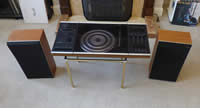 Vintage Electronics for Sale
As well as repairing Vintage & Modern TVs and Hi Fis, I also sell refurbished equipment.
Please see list of items for sale.
I will list these as text, then scroll down to see pictures and more details.
RECORD PLAYERS
Hacker Gondolier GP42 record player
Hacker AL42 add on amplifier for the above.
Bush SRP31C/D
Bush SRP31C with ARP31 add on stereo amplifier
Dansette Conquest record player
Dansette Bermuda record player
Dansette Hi Fi record player
Beogram 1500 turntable & amplifier
RADIOGRAMS
Blaupunkt Radiogram
Decca Beau with original Garrard RC70 turntable
Decca Beau with more modern turntable
MUSIC CENTRES
Bang & Olufsen Beocentre 7007 SOLD
Bang & Olufsen Beocentre 2002
Dynatron Music centre in furniture style cabinet
REEL TO REEL TAPE RECORDERS
Akai 3000D stereo reel to reel tape recorder SOLD
Revox B77 high speed 7½/15 IPS 2 Track
Revox A700 3¾, 7½ and 15 IPS
Tandberg
TURNTABLES
Dual 505 SOLD
HiFi Seperates
Onkyo AV receiver
Sherwood Amplifier
Leak Stereo 30 amplifier
Dansette Hi Fi
Probably one of the nicest and sweatest sounding of the Dansette range of record players. Fully serviced and including the legs.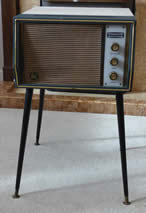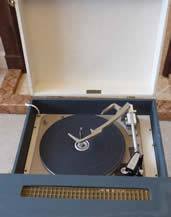 Dansette Hi Fi record player as seen with legs £600.00
Bang & Olufsen Music Centre 2002
A compact music centre from one of the worlds most stylish and
prestigious manufacturers of hi fi and televisions.
This music centre features automatic single play record deck, cassette tape deck and both FM & AM radio. Speakers as pictures are included.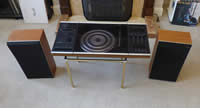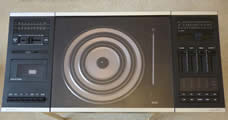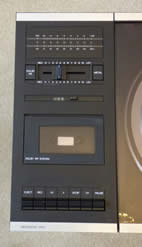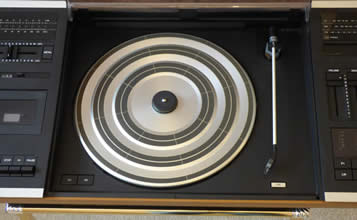 £300 with a used stylus, £450 with brand new stylus.
Please note however that damage to styli are not included in the warranty.
Dynatron Furniture style music centre
Turntable, cassette recorder and radio in a traditional style cabinet with speakers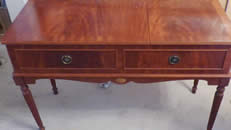 Hacker Gondelier GP42 and Amplifier Speaker AL42
Now back in stock
The Hacker range of record players were made to a very high quality and sounded increadibly good. Optional at the time (and today) was the extention amplifier/loudpeaker which when used with the record player made it stereo.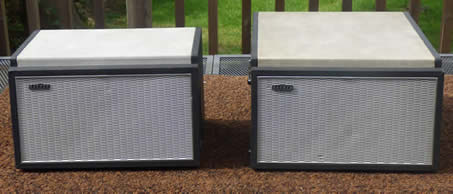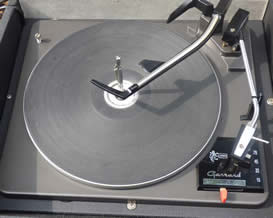 The amplifiers are getting difficult to obtain so I'm not selling them on their own.
All record players and amplifiers are fully serviced and are guaranteed for 1 year.
Record player on its own: £425.00
With add on amplifier: £650.00
If you are buying the add on amplifier, I will provide a suitable cable to connect the two together.
Both record player and amplier is guaranteed for 1 year excluding the stylus.
------------------------------------------------------------------------------------------------
Bush SRP31C/D Record Player
These record players were a cut above the rest in their days, featuring separate bass and treble controls, a fully automatic record changer. This record player has been fully serviced and is guaranteed for 1 year.
The SRP31C is fitted with a Garrard record deck, the 31D is fitted with a BSR Monarch record deck as per the pictures.
I also havce one ARP31 which is the stereo add on unit for the SRP31C/D. These units are very rare. It will only be sold with the SRP31D.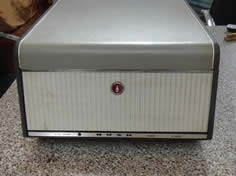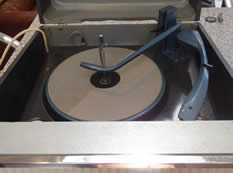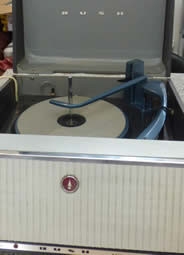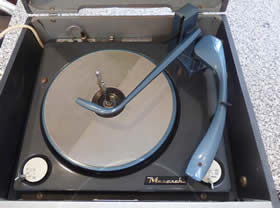 SRP 31C or D £325.00
SRP31D and ARP31 £525.00
GUARANTEES
All vintage Hi Fi and record players will be fully serviced by myself and will come with a 1 year guarantee (excluding styli and batteries)
Please contact me: 020 8908 1518 or Mobile 07973 530130
Click here to email: please include your phone number.
Click here to contact us about vintage electronic equipmant for sale. Please include your phone number